---
TERRA-MIX - The special below ground building-experts
for ground stabilisation and impuls compaction.
---
As a customer, with us you are the king. Albeit this sentence has been uttered by many before us, we at TERRA-MIX do not regard this as an empty cliché, but as an honest promise.
---
WHEN OTHERS
GIVE IN,
WE FIND
SOLUTIONS
With our innovative method for ground stabilisation we see to that you can realise your building project as timesavingly, cost efficiently and sustainably as possible. We master ground conditions that are making it difficult to build, and at the same time looking after considerable reductions in construction and maintenance costs.
---
---
---
---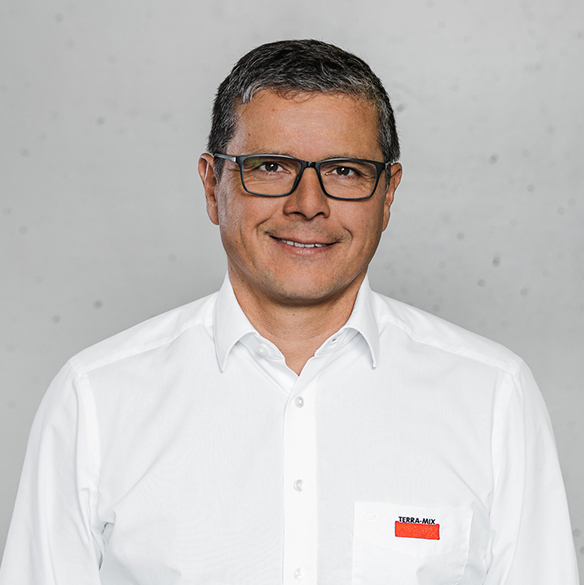 Johannes Fürpass
management
---
---
TERRA-MIX - Die Spezialtiefbau-Experten für
Bodenstabilisierung und Impulsverdichtung.
---

Als Kunde sind Sie bei uns König. Auch wenn diesen Satz schon viele vor uns gesagt haben, wir von TERRA-MIX sehen ihn nicht als leere Floskel, sondern als ehrliches Versprechen.
---
WENN ANDERE
AUFGEBEN,
FINDEN WIR
LÖSUNGEN.
Mit unseren innovativen Verfahren zur Bodenverdichtung sorgen wir dafür, dass Sie Ihr Bauvorhaben so zeitsparend, kostengünstig und nachhaltig wie möglich umsetzen können. Wir meistern Bodenverhältnisse, die schwierig zu bebauen sind und sorgen zugleich für eine wesentliche Reduktion der Errichtungs- und Erhaltungskosten.
---
---
---
---
ANSPRECHPERSON ÖSTERREICH
---