---
---
---
We renovate roads of which not only you would be crazy about.
---
The damaged carrying layer of existing roads and the damaged tarmac are milled in together with a road-recycling binder and water using a special method. This consequently results in a new frost resistant, flawless and hydraulically bonded carrying layer. The ROAD RENOVATING system TERRA-MIX has been registered with the European Patent Office.
---
---
---
The ROAD RENOVATION system TERRA-MIX offers the possibility renovating run down roads very quickly, economically and of high quality.
---
---

OVERVIEW
OF ADVANTAGES
ROAD RENOVATION System TERRA-MIX
The present tarmac as well as the current carrying and protective layers are worked into the new carrying layer as valuable building materials. The disposal and the connected truck drives can be dispensed with.
The ROAD RENOVATION system TERRA-MIX is a particularily fast and efficient method, since the present carrying and protective layers are re-used and are not removed and do not need to be transported away. The road renovation can hence be carried out in a very short time, and road blocks and the thereby connected traffic obstructions in your community can be reduced to a minimum. Already after 2 days the road can be released to traffic again.
SAVINGS ON BUILDING COSTS
Not only the renovation costs themselves, but also the maintenance costs are significantly reduced with the ROAD RENOVATION system TERRA-MIX. Since the carrying layer is bonded with a binding component, the road structure, even after years of usage, will not be permeated by fine particles, and there is no need for any geo textiles. If the protective layer after decades is damaged , only this layer needs to be renewed - the stabilised carrying layer below remains preserved.
GROUND STABILISATION System TERRA-MIX
Distributing the binding component
Mixing of binding material and ground with water
---

A road construction stabilised with binding material, as used in the Road Renovation System TERRA-MIX, is up to three times as sustainable as would be possible with a conventional method. Furthermore the road constructin is more frost resistant, since in a body bonded with binding material no water islands can form. An additional plus: The road construction even with time becomes more sustainable, whereas a conventional construction over the years deteriorates.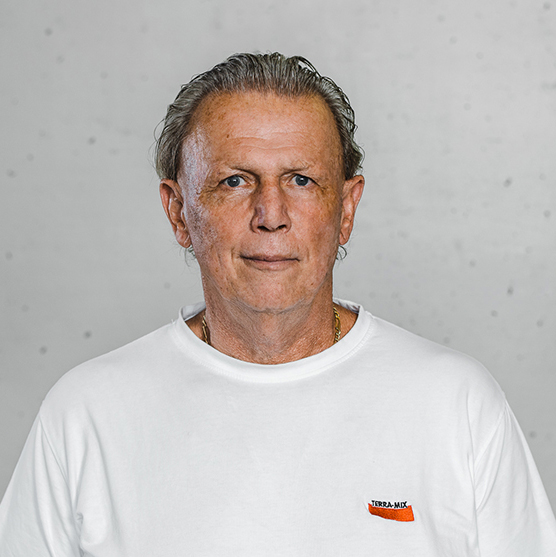 Franz Sindlhofer
project manager ground stabilisation, road rennovation
---
---
---
---
Wir sanieren Straßen, auf die nicht nur Sie abfahren werden. 
---
Die zerstörte Tragschicht der bestehenden Straße und der beschädigte Asphalt werden mithilfe eines speziellen Verfahrens mit Road-Recyclingbinder und Wasser eingefräst. Daraus entsteht eine neue frostbeständige, rissfreie und hydraulisch gebundene Tragschicht. Die Straßensanierung System TERRA-MIX ist beim Europäischen Patentamt zum Patent angemeldet.
---
---
---
Die STRASSENSANIERUNG System TERRA-MIX bietet die Möglichkeit, baufällige Straßen sehr schnell, ökonomisch und qualitativ hochwertig zu sanieren.
---
---

VORTEILE
IM ÜBERBLICK
STRASSENSANIERUNG System TERRA-MIX
Der vorhandene Asphalt sowie die bestehende Trag- und Deckschicht werden als wertvoller Baustoff in die neue Tragschicht eingearbeitet. Die Entsorgung und damit verbundene LKW-Fahrten entfallen.
Die STRASSENSANIERUNG System TERRA-MIX ist ein besonders schnelles und effizientes Verfahren, da die vorhandene Trag- und Deckschichten weiterverwendet werden und nicht abgetragen und abtransportiert werden müssen. Die Straßensanierung lässt sich dadurch in sehr kurzer Zeit durchführen, Straßensperren und damit verbundene Verkehrsbehinderungen in Ihrer Gemeinde können auf ein Minimum reduziert werden. Bereits nach 2 Tagen können Sie die Straße wieder für den Verkehr freigeben.
Nicht nur die Sanierungskosten selbst, sondern auch die Erhaltungskosten reduzieren sich mit der STRASSENSANIERUNG System TERRA-MIX wesentlich. Da die Tragschicht mit einem Bindemittel gebunden ist, durchsetzt sich der Straßenaufbau auch durch jahrelanges Befahren nicht mit Feinteilen, auf ein Geotextil kann gänzlich verzichtet werden. Ist die Deckschicht nach einigen Jahrzehnten beschädigt, muss nur diese erneuert werden – die stabilisierte Tragschicht darunter bleibt erhalten.
STRASSENSANIERUNG System TERRA-MIX
Aufstreuen des Bindemittels.

Vermischen von Bindemittel und Boden unter Wasserzugabe.
---

Ein mit Bindemittel stabilisierter Straßenaufbau, wie er bei der STRASSENSANIERUNG System TERRA-MIX erfolgt, ist bis zu dreimal tragfähiger als es mit herkömmlichen Verfahren möglich wäre. Zudem ist der Straßenaufbau frostbeständiger, da sich in einem mit Bindemittel gebundenen Körper keine Wasserinsel bilden kann. Weiteres Plus: Der Straßenaufbau wird im Laufe der Zeit sogar noch tragfähiger, wohingegen sich ein herkömmlicher Aufbau im Laufe der Jahre verschlechtert.
---